How to make/craft impregnated case - carpenter - Apiary. Minecraft Forestry v 1.4.2
THIS GUIDE HAS BEEN UPDATED ON OUR MAIN WEBSITE! PLEASE CLICK HERE
The below is a very out dated and incorrect guide. Please click the link above to get my updated version thank you - Eccho
I will update this with screenshots and stuff... but in all honesty there was ZERO relevant information on this and everyone was just talking about it being a bug and the recipe being broken.
So here is my unabridged guide containing everything you need to know and not being vague and assuming you have in depth minecraft knowledge like most damn minecraft guides that are not friendly to minecraft stupid people like myself

HOW TO MAKE AN IMPREGNATED CASE IN A CARPENTER. (USED TO MAKE APIARY)
uploaded the pics a little small sorry if its hard to read I'll fix it up later.
Creating the Carpenter.
(insert guide)
Setting up the Carpenter
You need to use a steam/stirling engine or better. I am currently using a stirling engine and cannot confirm the effectiveness of other engines.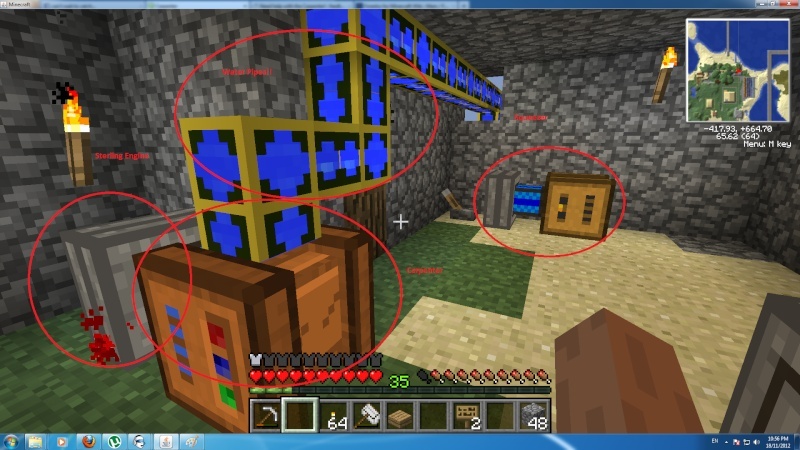 You need to fuel the engine (coal, coke coal, wood whatever) I used wood blocks as i was out of coke coal by the time i got the flipping thing working.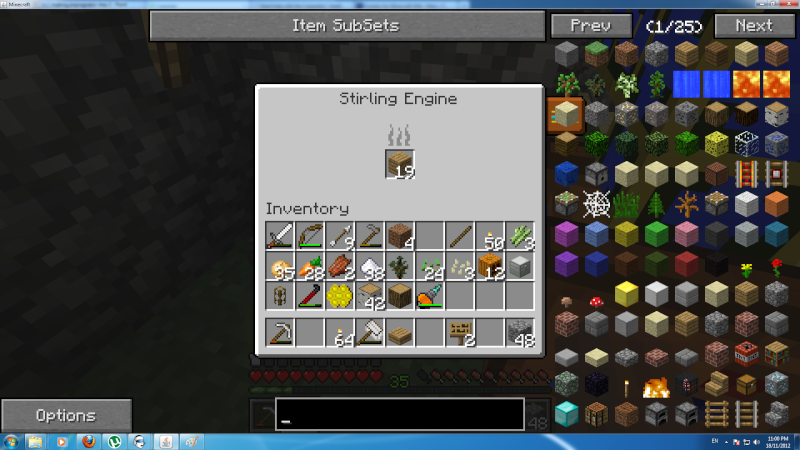 you need to pump water into it. my set up has water being pumped into it from the top I believe you can do it from the side also.
you will need to make a squeezer to make seed juice. this also needs to be powered by an engine. I used pumpkin seeds. and made can of seed juice. for this you need tin cans. 3 tin ores make 12 cans. (insert picture)

making the impregnated case....
incoming guide!!
Step 1.
Put 8 wood in the lower section as shown in the picture. Use these to fill the design in the above section. Do not use any additional materials from your inventory only items placed into that second tier of storage can be used.
Here use those 8 wood to make the design. (any wood can be used apparently. I used Birch and cannot confirm efficiency of others)
Notice the red tab to the right of the crafting window? This will disappear as if you have done it right.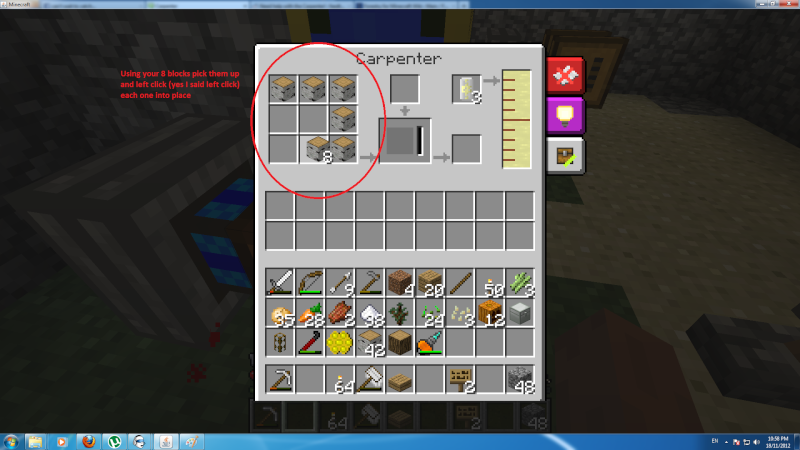 See!! No red tab!! Now shits getting real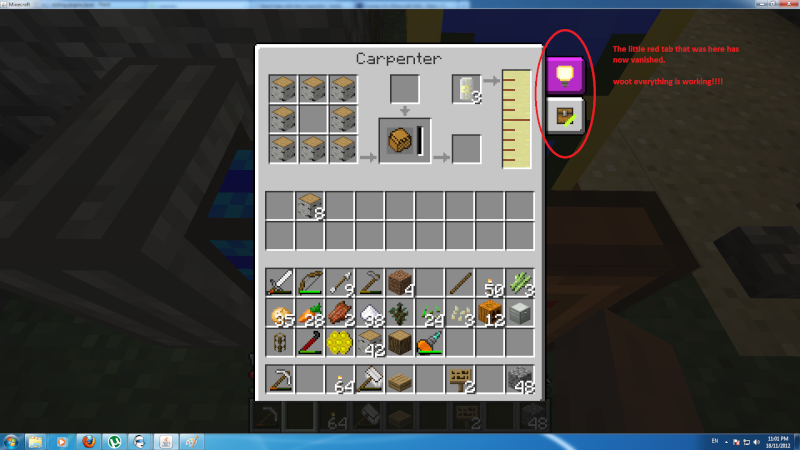 Now go turn your engine on (make sure there's fuel in it)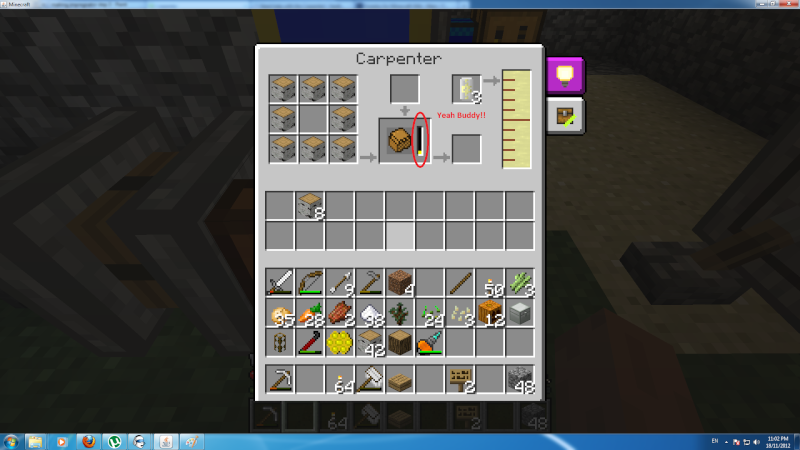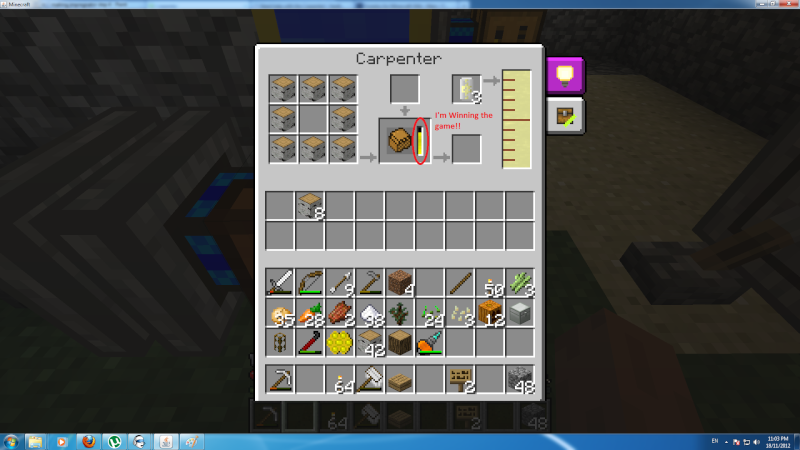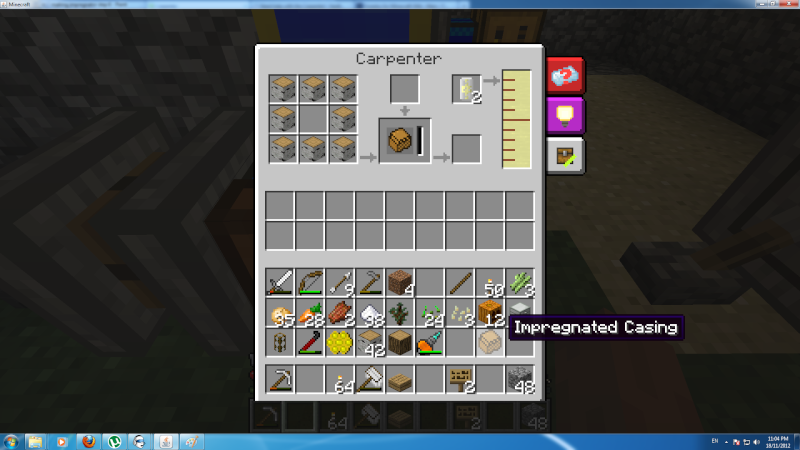 Will also include how to make each part and develop a complete guide that doesn't skim over everything. you can all Love me
-Eccho
Last edited by Eccho on Thu 18 Apr - 15:52; edited 3 times in total
wow this post is getting around 20 views a day i hope I'm helping people :-)
thank you so very much for this!
You're welcome

I've been away for work the last 3 or so weeks so I haven't been able to finish it off completely but I'm back now and will tidy a few things up.
and maybe start making a few other guides that spell things out really simply. I've only been playing minecraft for like a few weeks maybe a month on and off and a lot of guides assume you know all of the basics and I have found it really hard to follow them.
If there is anything that people would like me to make a guide of I can give it a go

Just to add a couple of technical details to the original post:

1. To power the carpenter you can use any engine except a redstone engine.

2. Buildcraft power is called MJ and is measured in MJ per tick. In Minecraft there are 20 ticks per second. So using this information I can tell you that a Stirling enging provides 1 MJ per tick and a Combustion engine provides 5 MJ per tick.

3. The carpenter will run off 1 MJ per tick but maximum speed is reached at 5 MJ per tick. My suggestion is to chuck some charcoal or coal coke in to a stirling engine and go mining for a while. You can pick your product up when you get back.

4.You won't need water at any point to make an impregnated casing. You'll need seed oil. You'll need to squeeze 100 pumpkin seeds to fill a can with seed oil.

5. The squeezer will work with 1 MJ per tick and has maximum speed at 5 MJ per tick. Same suggestion as before applies here.

6. If you're automating the setup: the carpenter does have limitations on which side it will take items. If you're inputting liquids then any side is acceptable. If you're inputting items in the crafting matrix (i.e. birch wood etc.) then you'll need to pipe those in to the sides. You can output the casing to any side using a redstone engine and a wooden pipe.

The Squeezer will take cans and seeds from any side. Output of liquids is to any side and the filled cans will pipe out the top and bottom if you're storing them for later use.

This is a good guide Eccho. If you want to do a series of guides I can provide you with all the nitty gritty information. I think a good guide would be on the various buildcraft engines available and how to get power from them and to the machines without needing to place them directly on the machines.
_________________
This took me an hour to do... no skillz.
Knows how to Post




Posts

: 85


Join date

: 2012-05-11


Age

: 33



Thanks zz

as you know I'm pretty minecraft stupid so I take pictures instead of explaining things with them word things that make intelligent sentences.

---
Permissions in this forum:
You
cannot
reply to topics in this forum